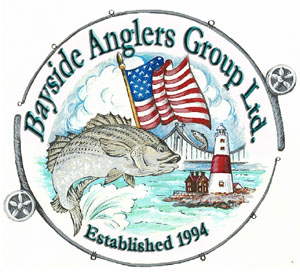 Snapper Derby 2001
Snapper Derby 2002
Snapper Derby 2003
---
"10th Annual"


BAG Annual Snapper Derby


"10th Annual"


Join us this year on


Saturday, August 20, 2005

(10:00 AM till 1:00 PM)
last year on Saturday August 28, 2004 Bayside Anglers Group had their Annual Snapper Derby. Held at "Bayside Marina" on the Fishing Pier in Crocheron Park from 10:00 am till 1:00 PM. Children age 16 and under competed for trophies and prizes for the most fish caught. There was plenty of giveaways and, B.A.G. Members were on hand to assist so that every child had a shot at some fish! The weather and the snappers both cooperated again for this years event and we all had a great time. Hope to see you this year!.
Directions
From: Cross Island Parkway to Northern Boulevard West exit, stay on Northern Blvd. west until Bell Blvd. Make a Right turn, continue until 28th Ave. then make another right turn, go strait until the end of street find some parking and take the pedestrian bridge over the Highway and walk North to the Marina go through the gate and follow the pier to the end and look for the Crowd.
For further information E-mail Event Chairman Phil Romano or contact our club President Peter Scala Jr. @ 917 797 3872.
A Special Thanks to Matty at "Bayside Marina"
For Closing of the Fishing Pier to your patrons
For the extra Spearing when ours ran out!
Allowing the kids to fish all around the restaurant!
Providing Pizza's for all that wanted
Helping to make this our best Snapper Derby Yet!
This event is held annually on the fishing pier at the Bayside Marina, Located adjacent to the cross Island Parkway on Little Neck Bay.
---
Click Image to Enlarge
Saturday August 28, 2004
Thank You to all those who attended and participated in this years Snapper Derby!
EMPTY!


Getting Started WOW


Great turn out.


What a Crowd!


Thanks!


Rod and Bait station

<![if !supportMisalignedRows]> <![endif]> <![if !supportMisalignedRows]> <![endif]>


Getting Lessons


Jack's Back!


Graig


Chris


Filling up


all free space!

<![if !supportMisalignedRows]> <![endif]> <![if !supportMisalignedRows]> <![endif]>


On the


Fishing Pier


Lines In the water


It's Derby Time!

<![if !supportMisalignedRows]> <![endif]> <![if !supportMisalignedRows]> <![endif]>


Find a good spot!


Great smile!

<![if !supportMisalignedRows]> <![endif]> <![if !supportMisalignedRows]> <![endif]>

<![if !supportMisalignedRows]> <![endif]> <![if !supportMisalignedRows]> <![endif]>


Nicole


Richard


Vincent

<![if !supportMisalignedRows]> <![endif]>


Justin


Nice Snapper!

<![if !supportMisalignedRows]> <![endif]> <![if !supportMisalignedRows]> <![endif]>


Prize Table


Trophies!

<![if !supportMisalignedRows]> <![endif]> <![if !supportMisalignedRows]> <![endif]>

<![if !supportMisalignedRows]> <![endif]> <![if !supportMisalignedRows]> <![endif]>

Once Again, Thank You!
To all those who attended and participated in our Snapper Derby!

<![if !supportMisalignedRows]> <![endif]> <![if !supportMisalignedRows]> <![endif]>
---