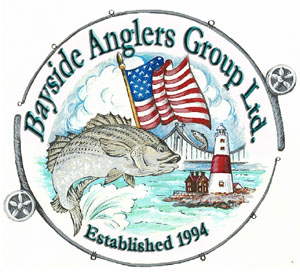 ---
15th Annual Snapper Derby
Saturday, August 22, 2009
(Photos)
On Saturday, August 22, 2009 Bayside Anglers Group Ltd. hosted its 15th Annual Snapper Derby at Bayside Marina. Neighborhood kids were invited to come and experience classic Little Neck Bay fishing. BAG was able to introduce well over 80 kids (and their families) to the joys of catch and release fishing available right in their own backyard.

Check out pictures of a sea of smiling faces and you will know what a success this event was. Thanks to all our sponsors, to our friends who helped, and especially to the kids in attendance whose smiles and spirit made it all worthwhile.

Directions
From: Cross Island Parkway to Northern Boulevard West exit, stay on Northern Blvd. west until Bell Blvd. Make a Right turn, continue until 28th Ave. then make another right turn, go strait until the end of street find some parking and take the pedestrian bridge over the Highway and walk North to the Marina go through the gate and follow the pier to the end and look for the Crowd.

---
For further information E-mail Event Chairman - Ira Friedland
A Special Thanks to the "Bayside Marina"
For Closing of the Fishing Pier!
Providing Pizza for all Children

Helping to make each years Snapper Derby even better!
Fisherman Depot
College Point
This event is held annually on the fishing pier at the Bayside Marina, Located adjacent to the
Cross Island Parkway on Little Neck Bay.

---

Thanks so much for a great fishing event,wonderful prizes, pizza, and all your help!

Bia and Donna

---

Congratulations to our winners!

1st place - Lucciano C.
2nd place - Nick D.
3rd place - Brian H.

---

---

Past Years
Snapper Derby 2008
Snapper Derby 2007
Snapper Derby 2006
Snapper Derby 2005
Snapper Derby 2004
Snapper Derby 2003
Snapper Derby 2002
Snapper Derby 2001

---